Rosso 1:8 scale Ferrari 643 F1 kit |

out of production - none in stock
Produced for a only short time in 1992 by the Rosso Corporation of Japan, which had a factory fire and went bankrupt soon afterwards. This is a very detailed and well engineered kit of the 1991 Ferrari 643 F1 car driven by Alain Prost and Jean Alesi, with car markings supplied for both drivers (driver figure not included). Pre-painted metal body, suspension, and wheels. The balance is mostly plastic, all parts finely engraved and molded in the appropriate colors, with many other small metal detail parts. Assembly by many small screws of various sizes (screwdriver included), minimal gluing required. Body markings are of three different types: water-slide decals, dry transfer markings, and vinyl adhesive markings. Soft rubber tires. Similar level of detail to the Pocher F40, but made in Japan so the casting, engraving, fit, finish, and instructions are superior.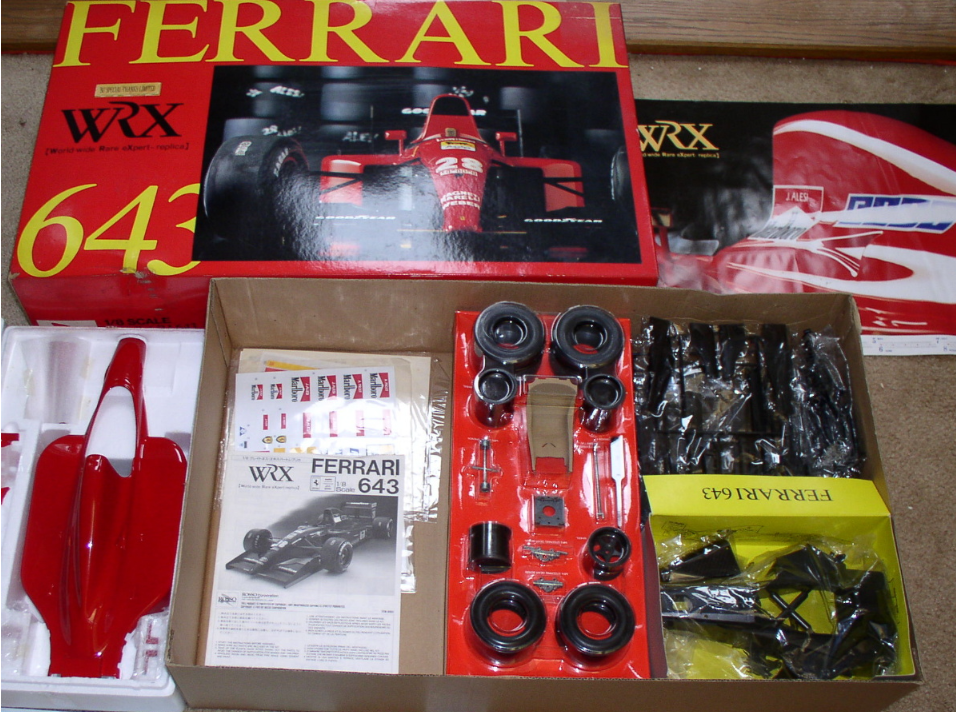 The first photo below shows the red "Special Edition" kit box. Most kits sold had the white box shown in the second photo. The smaller box at lower left of the second photo is the rare optional "Grade Up Set", view the instructions here and the contents in the third photo below. Contents of the two versions are identical, except some kits were produced for the US market without "Marlboro" logos. The fourth photo below shows some extra details added from the "Grade Up Set".